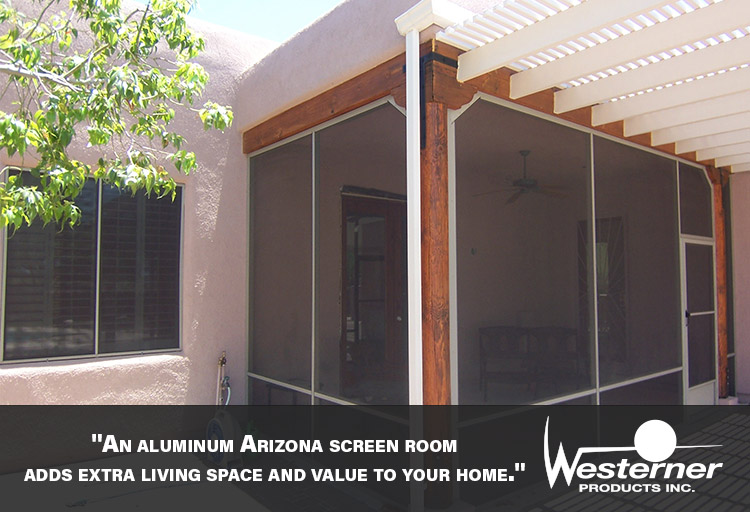 What is an Aluminum Arizona Screen Room?
An aluminum Arizona screen room is an ideal home addition for those who want to enjoy the outdoors without being exposed to harsh weather conditions. It offers a comfortable, safe, and convenient area for entertaining family and friends. These rooms are typically made from an aluminum frame that is then covered with high-grade screening material, providing protection from rain, wind, sun, bugs, and other elements of nature.
Aluminum screen rooms are popular in Arizona because they provide additional living space without always having to build a separate structure. They can be attached to an existing patio or deck or freestanding on a wide variety of surfaces including concrete or brick patios. Whether you're looking for a place to escape the heat in summer or wish to host outdoor gatherings all year long - an aluminum Arizona screen room can make it happen.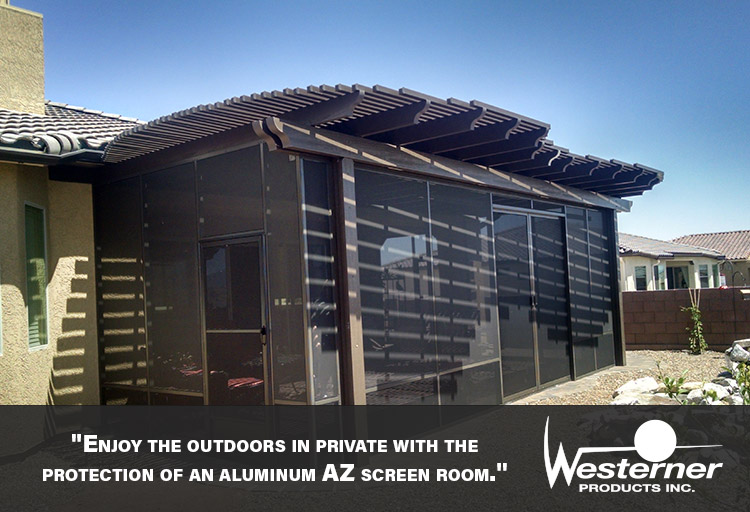 Benefits: Increase your home's usable space
Adding an aluminum Arizona screen room to your home can be a great way to increase your usable space and bring the outdoors inside. Not only does a screen room add value to your home, but it also offers additional space for entertaining family and friends or simply enjoying the fresh air. An aluminum screen room is designed to provide protection from insects, sun, wind, rain, and other elements while still allowing the beauty of the outdoors in with minimal obstructions.
The addition of an aluminum Arizona screen room allows you to enjoy all that Mother Nature has to offer without dealing with pesky bugs or harsh weather conditions. By adding this extra square footage, you can create an outdoor oasis where you can relax or entertain with ease knowing that you are protected by high-quality screened walls and roofing materials.
Benefits: Private Outdoor Space
When the summer months arrive in Arizona, outdoor living spaces become a necessity. Instead of a traditional patio, homeowners can enjoy the many benefits of an Aluminum Arizona Screen Room. These structures provide private outdoor space that is comfortable and attractive. Constructed with durable aluminum frames and strong mesh screens, Arizona Screen Rooms are designed to keep out pests while allowing fresh air to circulate. They also provide protection from the sun's harsh rays and reduce exposure to windburn on your skin.
In addition to providing shade and shelter from insects and UV radiation, owning an Aluminum Arizona Screen Room offers a variety of other advantages including increased privacy from your neighbors or passersby; added comfort for entertaining friends or family; and even potential energy savings due to the structure being attached directly to your home and shading your windows and doors.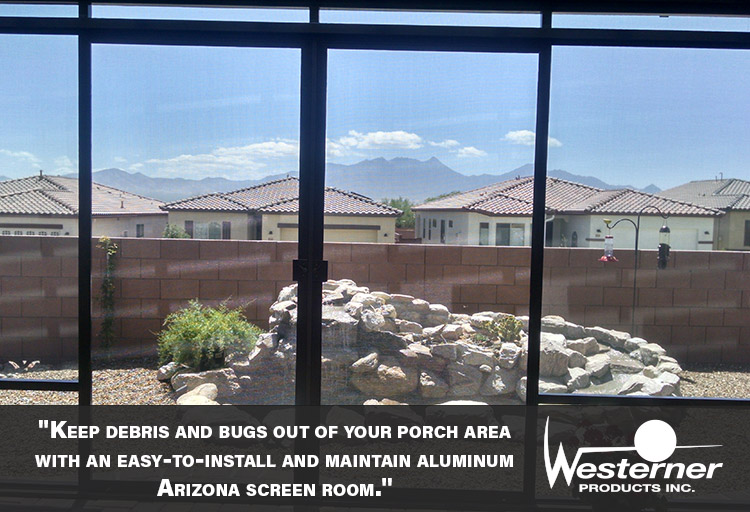 Benefits: Keep debris and bugs from blowing into your porch area
Installing an aluminum Arizona screen room is one of the most effective ways to keep debris and bugs from blowing into your porch area. Not only will it keep out both, but it also adds a sense of style and sophistication to your outdoor space. In addition, these types of rooms are very easy to install and maintain, which makes them an ideal choice for those looking for a low-maintenance solution that looks good.
Aluminum Arizona screen rooms are made using a special aluminum frame and mesh screen that blocks out dust and insects while still allowing you to enjoy the outdoors without worrying about anything getting inside. The mesh is also highly durable and can withstand harsh weather conditions like extreme heat or cold without corroding over time. Additionally, these rooms come in various styles and designs so you can find something that fits in with the look of your home or patio area perfectly.
Design: Variety of Styles
When it comes to designing an outdoor space, there is no better way than with an aluminum Arizona screen room. These rooms provide plenty of style, convenience, and comfort while also adding value to a home. From traditional designs to modern styles, these rooms offer a variety of design options that can fit any budget or aesthetic preference.
The aluminum frame material used in Arizona screen rooms has become popular because it's lightweight yet durable and resistant to rusting and corrosion. It's also highly customizable so the size, shape, and color can be constructed according to individual needs. Homeowners can choose from a range of colors such as white, bronze, sand or dark tan on their frames as well as various types of screening including insect mesh, solar or pet resistant screening.
Construction: Durable Aluminum
Aluminum has become an increasingly popular choice among homeowners for Arizona screen rooms. With its superior durability and long-lasting performance, aluminum is the perfect material to use in construction for a variety of reasons.
The most obvious advantage of using aluminum in construction is its incredible durability. Aluminum is a strong and lightweight material that won't rust or corrode over time, making it much more resistant to weathering damage than other materials such as steel or wood. Additionally, aluminum can be formed into nearly any shape to create custom designs that will last longer than other materials on the market. Furthermore, with little to no maintenance, an aluminum Arizona screen room framing can last up to 40 years or more! And if you need to change screening down the road, each panel can be done individually.
In addition to its impressive durability, aluminum offers many other benefits as well. It is easy to install and requires little upkeep to retain its strength and beauty over time.
Imagine Having More Room
Imagine having a larger living space in your house, without having to move or remodel. Many homeowners are finding that they can easily increase the usable square footage of their homes with the addition of screen rooms, patio enclosures and Arizona rooms.
Screen rooms allow you to enjoy the outdoors while remaining protected from insects and weather. By adding an enclosure around your existing patio or deck you can create extra space for entertaining and relaxing with family and friends. Structures such as these also provide protection against harsh sunlight, preserving furniture and other belongings inside.
Patio covers add another level of convenience by providing shade while still allowing plenty of sunshine in during the day. They come in a variety of styles from permanent aluminum structures to retractable shade screens, depending on budget and style preference.
Conclusion: Enjoy the Outdoors
The installation of an aluminum Arizona screen room can provide a great opportunity to get more enjoyment out of your outdoor living space. Whether you are looking to increase the size of your patio, create a private area for entertaining guests, or just improve the appearance and functionality of your outdoor living area, an aluminum Arizona screen room is the perfect addition. After taking in all the benefits that come with installing an aluminum Arizona screen room, it's now time to enjoy the outdoors!
An aluminum Arizona screen room provides ultimate protection from wind, rain, and insects while still allowing you to be outdoors. With amazing views of your backyard landscape and plenty of natural light streaming in through windows and doors, it's easy to see why so many people choose an aluminum Arizona screen room for their outdoor living area needs.
Contact Westerner Products
Are you looking for a reliable aluminum Arizona screen room? Then look no further than Westerner Products! We are your one-stop shop for top-of-the-line screened in patios and rooms. Our team of professional installers will work with you to create the perfect outdoor space to fit your needs.
We understand that making decisions on such an important project can be overwhelming, so we make it easy by offering free estimates to all potential customers. With our fast and easy process, you'll have the backyard of your dreams without any hassle or stress. You can have peace of mind knowing that all materials used are durable, weatherproof and backed by our warranty!
Contact us today at Westerner Products for a free estimate on your Arizona screen room and start enjoying your outdoor space in no time.