A famous comedian once asked a contractor to give him two estimates for a remodeling job. The first estimate was for the contractor working alone. For the second estimate the comedian wanted to know how much more it would cost if he helped! Even if you are handy around the house for large projects it makes sense to hire a professional contractor to complete the work.
When looking to add shade to your property, including an awning, ramada or a new carport, enclosures around pools and patios, or plant pergolas, sheds and even new roofing or siding, the best place to find quality workmanship in southern Arizona in Westerner Products, Inc. Customers rave about the artistic quality and long-life durability of home improvement projects completed by Westerner. And if you are a qualified do-it-yourselfer Westerner Products, Inc. has the best materials and solid advice for you to get the job done right.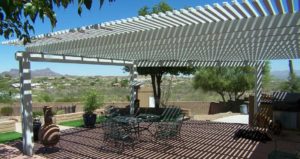 A new source of shade from Westerner such as a ramada or a remodeled patio or enclosed Arizona room will become the focal point of living, laughing and loving occasions for your family. A new shed or covered carport will protect your belongings from inclement weather and the hot Arizona sun. Aluminum siding or a steel roof will increase both the life and the value of your property and eliminate the need for repeated painting. Thousands of residential customers and company's both large and small in Arizona have come to rely on Westerner Products, Inc. for solid reliable service and quality construction.
Westerner Products Inc. has been in the shade construction business in southern Arizona for over fifty years. Back in 1966 the company was formed to manufacture and install aluminum awnings. Since then Westerner Products has grown into an industry leader in providing and installing a full range of building products for residential and commercial customers. With decades of experience, the staff at Westerner is committed to providing you with the best possible products and service.
Westerner Products will manage every aspect of your custom project from design to completion including arranging the proper construction permits. And you can rest assured because of Westerner's vast amount of experience, your home improvement project will be done the right way—the Westerner way.
Westerner Products Inc. has friendly, knowledgeable people who will give you professional individualized attention for your home improvement project. Westerner Products, Inc. will give you a free estimate in advance and offers payment options through Synchrony.
For a risk-free, no obligation planning session contact the experienced and reliable staff at Westerner Products, Inc. The Westerner Products showroom, at 244 W Grant Road in Tucson, is open 8:00 AM to 5:00 PM Monday through Friday and 8:00 AM until noon on Saturday. For more information call (520) 622-6722.