Living in the desert has its advantages. We enjoy beautiful scenery surrounded by majestic purple mountains and clear, deep blue skies. We spend evenings watching breathtaking sunsets and never, ever again need to shovel snow. But as we approach the hotter summer months there are definitely disadvantages to the heat--especially for our pets.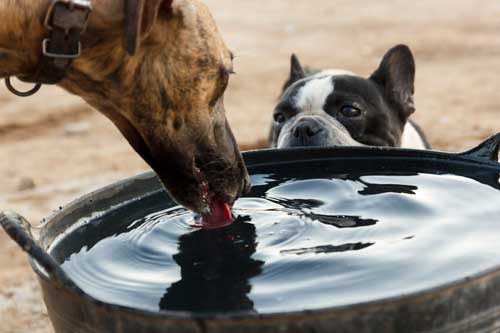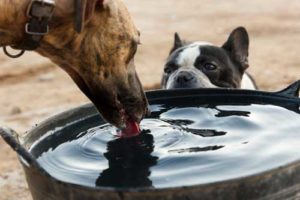 It's a good idea to think of your pet's living space from their four-legged point of view. Stuck outdoors in the hot summer sun for even the shortest amount of time can be unbearable and even deadly.
According to the DESERT USA website, "If you must leave your pet outdoors on hot summer days, make sure it, and any pet shelter, are in the shade during the entire day. What may be shady in the morning may be a hot, sunny spot as the day progresses. Your pet needs shade to stay cool."1
At Westerner Products, LLC. we have the expertise to give your home the shade you need to protect your loved ones including your pets. For over fifty years we have brought sun shade to the people of the southwest. We not only install your shade, but we also manufacture most of the shade products at our facility in Tucson. All of our products, including patio awnings, carports, enclosures, and lattice shades are designed specifically for southern Arizona's climate and architecture. Westerner can custom design a system to protect the people you love as well as your pets.
Besides providing adequate shade to protect your outdoor pets there are some additional basic rules you should follow in Arizona. Never leave your pet unattended in a parked car. Within minutes the temperature inside a parked car will rise to over 160 degrees and can be lethal for a pet. Never tie or chain your pet outdoors. "In the summer, provide a large water bowl that will not tip over. If the water is outdoors, leave it in a shady area so it stays cool…if necessary, leave more than one bowl for a pet. If you have multiple pets, provide multiple bowls. In addition, wash the bowl well because evaporation tends to leave algae and calcium deposits."2
Westerner Products is a one-stop shop for your sun shade, ramada, awning, shade canopy, patio shade, car shade, or enclosed Arizona room. Protect your family members and your pets from the hot Arizona sun. Call Westerner Products for an estimate on your share of shade.
1 - http://www.desertusa.com/desert-people/pet-in-desert.html
2 - http://www.desertusa.com/desert-people/pet-in-desert.html